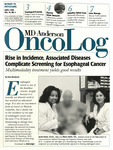 Contents
Rise in Incidence, Associated Diseases Complicate Screening for Esophageal Cancer
DiaLog: Preventing Cancers of the Upper Aerodigestive Trad: Challenges for Clinicians, by Ellen R. Gritz, PhD, Professor and Chair, Department of Behavioral Science, and Alexander V. Prokhorov, MD, PhD, Assistant Professor, Department of Behavioral Science
House Call: Gene Therapy: Changing the Way Cancer Cells Behave
Efforts in Thyroid Cancer Treatment Include Initiation of Multicenter Clinical Trials
Preclinical Studies Examine Strategies to Fight Rare Forms of Thyroid Cancer
Protocols: Clinical Trials for Esophageal Cancer
Creative Commons License


This work is licensed under a Creative Commons Attribution-Noncommercial-No Derivative Works 3.0 License.
Publisher
The University of Texas MD Anderson Cancer Center
Keywords
Hamilton, Stanley R.; Baker, Jackie; Keith, Maria; Ajani, Jaffer A.; Putnam, J. B. (Joe Billy), 1953-; Sellin, Rena; Gagel, R. F. (Robert F.); Yeung, Sai-Ching Jim; Sherman, Steven I.; Burgess, Michael A.; Gritz, Ellen R.; Prokhorov, Alexander V.; Esophageal Neoplasms; Adenocarcinoma; Carcinoma, Squamous Cell; Gastroesophageal Reflux; Barrett Esophagus; Epithelial Cells; Esophagectomy; Antineoplastic Agents; Paclitaxel; Irinotecan; Chemoradiotherapy; Neoadjuvant Therapy; Surgical Procedures, Operative; Thyroid Neoplasms; Thyroid Cancer, Papillary; Thyroid cancer, follicular; Adenocarcinoma, Follicular; Iodine Radioisotopes; Thyroid cancer, medullary; Thyroid Carcinoma, Anaplastic; Proto-Oncogenes; Proto-Oncogene Proteins c-ret; RNA, Catalytic; 2-(2-oxo-2-((3,7,11-trimethyl-2,6,10-dodecatrienyl)oxy)aminoethyl)phosphonic acid, (2,2-dimethyl-1-oxopropoxy)methyl ester sodium; Organophosphonates; manumycin; Thyrotropin; Adrenal Cortex Neoplasms; Gemcitabine; Genetic Therapy; Immunomodulation; Head and Neck Neoplasms; Tobacco Use; Alcohol Drinking; Smoking Cessation; Tobacco Use Cessation Devices; Nicotine Chewing Gum; Bupropion.
Disciplines
History | Oncology
Recommended Citation
Norwood, Don; Wright, Kerry L.; Gritz, Ellen R. PhD; and Prokhorov, Alexander V. MD, PhD, "OncoLog, Volume 45, Number 04, April 2000" (2000). OncoLog MD Anderson's Report to Physicians (All issues). 84.
https://openworks.mdanderson.org/oncolog/84
Conditions Governing Access
Open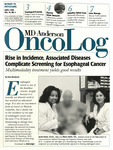 Included in
COinS