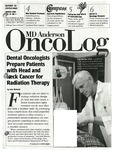 Contents
Dental Oncologists Prepare Patients with Head and Neck Cancer for Radiation Therapy
DiaLog: Nurses Bring Personal Touch to Clinical Research, by Charles S. Cleeland, PhD, Professor, Pain Research Group, Division of Anesthesiology and Critical Care
House Call: Coping with Chemotherapy
Radiofrequency Ablation Surpasses Cryoablation as the Treatment of Choice for Localized, Unresectable Liver Malignancies
Creative Commons License


This work is licensed under a Creative Commons Attribution-Noncommercial-No Derivative Works 3.0 License.
Publisher
The University of Texas MD Anderson Cancer Center
Keywords
Martin, Jack W.; Jacob, Rhonda F.; Chambers, Mark S.; Lemon, James C.; Putman, Joe B., Jr.; Fornage, Bruno; Abbruzzese, James L.; Janjan, N.A. (Nora A.); Sinicrope, Frank A.; Skibber, John M.; Cleeland, Charles S.; Singletary, S. Eva; Toth, Bela B.; Curley, Steven A.; Ellis, Lee; Vauthey, Jean-Nicolas; Patt, Yehuda Z.; Head and Neck Neoplasms; Radiotherapy; Dentists; Dentist's Role; Xerostomia; Radiation Fibrosis Syndrome; Osteoradionecrosis; Dental Caries; Periodontal Diseases; Saliva; Salivary Glands; Stents; Fluorides, Topical; Dental Prosthesis; Radiofrequency Ablation; Cryosurgery; Liver Neoplasms; Tumor Lysis Syndrome; Antineoplastic Agents; Practice Guidelines as Topic; Rectal Neoplasms; Neoplasm Staging; Medical History Taking; Colonoscopy; Biopsy; Carcinoembryonic Antigen; Tomography, X-Ray Computed; Electrocardiography; Liver Function Tests; Fluorouracil; Leucovorin; Irinotecan; Brachytherapy; Research; Nurses; Nurse-Patient Relations; Combined Modality Therapy.
Disciplines
History of Science, Technology, and Medicine | Oncology
Recommended Citation
Richard, Jude; Wright, Kerry L.; and Cleeland, Charles S. PhD, "OncoLog, Volume 45, Number 03, March 2000" (2000). OncoLog MD Anderson's Report to Physicians (All issues). 85.
https://openworks.mdanderson.org/oncolog/85
Conditions Governing Access
Open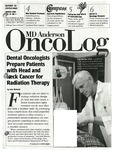 COinS