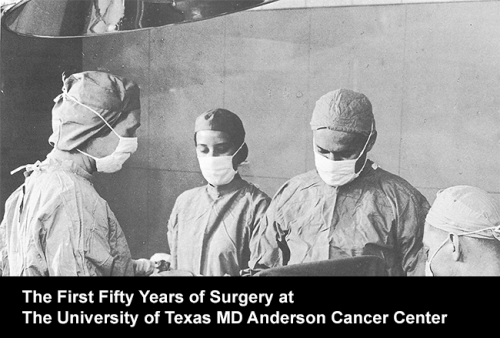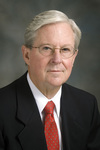 Title
Chapter 06: From General Surgery to Surgical Oncology; on Edward Copeland, MD and Others; Reflections on the Division System
Description
Dr. Ames begins this chapter with several stories that demonstrate how surgeons in the department were shifting to a surgical oncology perspective (from a reactive surgery perspective), an evolution reflected in the department's change of name. He notes that he was the first Chief of the Breast Section and worked with Eva Singletary, MD, the first woman to have a titled role in the Department and a very successful and well-thought of surgeon.Next, Dr. Ames talks about the impact of Dr. Edward Copeland (History of Surgery interview]. He notes that Drs. Copeland, Mendelsohn, and Balch were all finalists for the position of MD Anderson's third president. He also explains that Dr. Copeland brought an academic research perspective to the department with his landmark work on hyper-alimention. Dr. Ames then talks about political struggles when Dr. Balch arrived to head the Department and form the Division of Surgery. Dr. Ames talks about his own aspirations as a surgeon, his feelings for the institution, and the relationship of surgery to patient care.
Identifier
AmesF_01_20190807_C06
Publication Date
8-9-2019
Publisher
The Historical Resources Center, The Research Medical Library, The University of Texas MD Anderson Cancer Center
Topics Covered
Building the Institution; MD Anderson History; MD Anderson Snapshot; Portraits; Multi-Disciplinary Approaches; Discovery and Success; Research; The MD Anderson Brand, Reputation; MD Anderson Impact; Institutional Politics; Controversy
Creative Commons License


This work is licensed under a Creative Commons Attribution-Noncommercial-No Derivative Works 3.0 License.
Disciplines
History of Science, Technology, and Medicine | Oncology | Oral History | Surgery
Transcript
Charles Balch, MD
I wanted to circle back. We started out with Ted Copeland but we've moved on, so maybe in the final moments, Ted is very special for all of us, he left a legacy. His leadership in hyperalimentation was one thing that put MD Anderson on the map.
Frederick Ames, MD
That's actually Nobel quality work.
Charles Balch, MD
Ted Copeland was one of the three finalists for being president, along with John Mendelsohn [oral history interview] and Charles Balch [oral history interview], we were the three finalists, which is a statement about how his legacy rose to the level of the Board of Regents… Filtering through a large number of people in the search committee ended up with Ted Copeland.
Frederick Ames, MD
Obviously, I owe him, because he was the guy that I rotated with and you know, I had the opportunity to come here and as luck would have it, I got thrown on his service. If I had been thrown on one of the other services, I'm not sure how it might have turned out, you can't go back and it's neither here nor there. I was where I was and I did what I did and obviously he was fond of me and the rest is history, and I'm certain he played a role in that, I mean I was brought back as his assistant.
Charles Balch, MD
One of the things that is different from all the people we talked about, Ted not only was a very good surgeon, but he was an innovator and he was engaged in gathering the data and publishing it. I think in a very large way, he put the MD Anderson reputation on the map, because he'd be out there giving the talks. Not just a fellow like Ev Sugarbaker talking about Charlie McBride's series, but his publications, not only in hyperalimentation but in other things, really put MD Anderson on the map. It propelled his role as being president of the Society of Surgical Oncology, the American College of Surgeons. He went back to Florida as chair of surgery and then as dean, but one of the things I remember is he worked with Bill McComb and published a whole series --the first series on hyperalimentation for head and neck cancer, in patients who ordinarily would have all died.
Frederick Ames, MD
I didn't remember that he had worked with Dr. McComb, although I'm not surprised. Ed was tireless, in contrast to a number of the other surgeons, myself included of course. Ted had an academic bent that was a whole category beyond, a whole category beyond. Dave Winchester [Division of Surgery interview] has been involved in national affairs, but Ted is a whole category beyond the rest of us and he influenced us in so many different ways. He was just one of those people that you'd follow and if you talked to the people who trained under him, they worshipped the guy, and I'm among them, through I wasn't his—I was only his resident for three months and his fellow for whatever, but then I was his associate and I was just around him. He was one of those people that he inspired you and he had so much going on at once.
Charles Balch, MD
Charisma would be a good word to describe Ted Copeland.
Frederick Ames, MD
He's the paradigm for charisma and his whole career. He's got this army that follows him, and he would have all these projects and he would invite the people to come forth, and he didn't take the credit for it. He would be the first to rise as the senior author and compliment whoever it was.
Tacey A. Rosolowski, PhD
That's the gift of a leader.
Frederick Ames, MD
And they're scattered out all over the place.
Charles Balch, MD
Ted made you feel like you were his friend early on.
Frederick Ames, MD
Well but he was, I mean it was not false.
Tacey A. Rosolowski, PhD
And that was probably really helpful, since he was kind of showing the way to the next step of an academic medical center but he wasn't being threatening or obnoxious about it. Was that the case?
Frederick Ames, MD
No, I never sensed any of that. Although I remember when—I suspect it was when I was a rotating resident, we had a hospital over here called The Pavilion, it's where the parking garage is now, and we would go over there and do things and he would go over there and make rounds on the hyperalimentation patients. I occasionally would go there with Dick Jesse, to do a head and neck case, and he'd dispatch me back across the street. I remember Ted was over there and it was some trainee or young faculty, I can't remember which, and it was a fellow of shorter stature. Of course that would have applied to most of us because Ted is six-feet-six or six-feet-five. He was over there and this guy was giving him some crap and Ted, you know, got him squared away and this guy was saying, you no shout me?. And the thing is when we were at that postgraduate course at the McCormick House. Ted told me, I said God, what if they ask me some questions I can't answer? He said, "Don't worry about it, just answer the ones that you can remember and that you know the answer to and let the other ones rest, there's no comeback." And he reminded me, he said, "Fred, sometimes there's an advantage to being the moderator and being six-feet-six, because you look down on them." But everyone that's ever been around Ted Copeland admires him, I mean I don't know very many people. Everyone admired Dr. Martin but Ted had this whole other side to him and he had humor. He would sit in the lounge and he saw Dr. Martin drinking his Diet Coke and eating some of these fast food snacks out of the machine, and of course Ted was a nutritionist.
Tacey A. Rosolowski, PhD
Right.
Frederick Ames, MD
And he would say, "Gee, you've got the Diet Coke in the one hand and the Twinkies in the other" or whatever it was.
Tacey A. Rosolowski, PhD
Well, we're pretty much at time now, did you want to have any final thoughts before we close?
Charles Balch, MD
No this was great.
Frederick Ames, MD
I'm in no hurry, I mean if you guys have got to leave, leave, but if you'd like to run over a little bit, I'm cool.
Charles Balch, MD
I'm cool.
Tacey A. Rosolowski, PhD
Well I need to scoot in about ten minutes.
Frederick Ames, MD
You call it.
Tacey A. Rosolowski, PhD
Well why don't we—we can go for a few more minutes, do you have a couple more questions?
Charles Balch, MD
Let me ask you about the politics and the environment around the time that I came in 1985. The context here is that Mickey LeMaistre [oral history interview] wanted me to come because of my research credentials. He and Irv Krakoff and Josh [Isaiah] Fidler wanted to have somebody as the surgery chief. As you know, both Helmut Goepfert [oral history interview], Andy von Eschenbach and Taylor Wharton all thought that they should have been the division head, but Mickey made a different decision, which was difficult. I just wondered how you viewed that time, which was a big transition from MD Anderson being very inbred with people who had trained here to breaking out of that mold.
Frederick Ames, MD
It was a little bit of a stressful time. I was pretty junior at the time.
Charles Balch, MD
Fred, that's the point, you and I are the same age. So I came in as one of the youngest people on the faculty having not trained at MD Anderson and being younger than many of the people who were ostensibly reporting to me.
Frederick Ames, MD
They had had a search for quite a while, and I remember some of the other candidates. I believe Dr. Hickey at the time was overseeing that recruitment and he also had his opinions, and he would mumble them occasionally. Dr. Hickey was a friend of mine and he would share a lot of thoughts with me, and he did up until the time he left. I remember some of the rumblings about what some of the other candidates before you had suggested they would like to do.
Tacey A. Rosolowski, PhD
What did people feel was at stake with this choice?
Frederick Ames, MD
Well some of the others frankly said they wanted to replace a lot of the faculty. I mean they said so, and I remember by name, who a couple of them were, but that doesn't need to be part of this discussion. But it was shared with me because I knew the other players, I knew Helmut and Taylor especially, and Andy, oh my goodness, I knew these people real well. In any event—
Tacey A. Rosolowski, PhD
So were these replacements about clearing the decks for more innovation?
Frederick Ames, MD
Mm-mm, people, people.
Frederick Ames, MD
One of them said that he wanted to replace a number of the faculty in General Surgery.
Tacey A. Rosolowski, PhD
Why, why?
Frederick Ames, MD
He just did. He wanted his own people.
Tacey A. Rosolowski, PhD
He wanted his own people, okay.
Frederick Ames, MD
That's what I was told, obviously I was not there at the meeting.
Charles Balch, MD
So, I took a longer view of embracing everybody and recruiting from within the fellowship program. But the first two people I hired were Raph Pollock [oral history interview] and Eva Singletary, into General Surgery, and I recruited Jack Roth [Division of Surgery interview] to become the first chair of Thoracic Surgery, which was another interesting story because I had to pair him with Denton Cooley and they could not be more opposite people—
Frederick Ames, MD
Oh isn't that the truth.
Charles Balch, MD
—to create the first thoracic-boarded program that was going to be six months cardiac and 18 months of thoracic, which is the reverse of what was going on at the time.
Frederick Ames, MD
It's interesting.
Charles Balch, MD
Fred was somebody that was always somebody I could count on, who stayed in the trenches, was very helpful to me in many different ways and one --Fred, I will tell you on the record, that I have great admiration for you as a person and as a surgeon.
Frederick Ames, MD
Well, you're very kind, but what I wanted to be, I've already told you. I wanted to be a clinical surgeon and a surgeon's surgeon and unfortunately, in an atmosphere like this, you also have to be academic, so it was a bit of a struggle for me. Now, we have a new regime and I'm convinced it's a great one, because the president was in my department for 20 years and he is what he is.
Tacey A. Rosolowski, PhD
And this is Peter Pisters, for the record.
Frederick Ames, MD
Oh, absolutely, and also of course is his wife Katherine, who is a thoracic medical oncologist.
Charles Balch, MD
Who I recruited both of them to come here, gave them their first job.
Frederick Ames, MD
He's now realizing that the place was built on clinical care. You can't run it in a lab. We've had an interesting five-year experience with that, that didn't work.
Charles Balch, MD
Primary mission of MD Anderson is patient care.
Frederick Ames, MD
It still requires all these other kinds of folks, and you've got to reward them for what they're doing and we didn't always have those tracks. We had two tracks; you had a PhD, you had a basic, and the PhDs and the MDs fought like cats in a sack, and most of the clinicians who were very academic didn't really do bench research and they were criticized: it's not really being in research. But Peter, his vision is --and he's so stated in group assembled more than once-- that he is finding a category for each of the kinds of folks that's essential for this institution. But it was tough back then, Charles.
Charles Balch, MD
Yeah.
Frederick Ames, MD
I mean it was really tough.
Charles Balch, MD
It was a transforming time, to take the excellence in patient care and wrap around that, prospective. Remember, there was the J. Freireichs of the world who said in public that it's unethical to do randomized trials, and those of us who believed that we should really create the evidence prospectively as we could. I wanted to, as we finish with Fred, is in the Department of Surgical Oncology we started specializing by disease group. Fred was always somebody who, I told you before, was a utility player, who could be in every area. I really gave Fred the latitude of going wherever he wanted, because he had the judgment that whatever he did, he did well, and that was something. I could give him latitude. But there were some other people who were doing some occasional surgeries in some areas that didn't have good outcomes. As you remember, one of the first things that I did was recruit Mark Roh to do liver surgery and said everybody can be credentialed in liver surgery as long as the patients they choose have the same outcome as Mark Roh, who is going to do it full-time. So I didn't have to take anybody's credentials, but it was one of the first times we said we're going to allow people to practice, as long as they have consistent outcomes.
Frederick Ames, MD
I admired that because there were a number of unimaginable disasters in pancreas and in liver.
Charles Balch, MD
And limb perfusion. We lost some legs.
Frederick Ames, MD
I got to know Mark pretty well because I just did, and he saddled up to me and sometimes he got painted into a corner and he'd whistle and I'd come running, and together we would—his training was a little different from mine. He trained in Pittsburgh, which at the time was the preeminent liver surgical service—and in New York.
Tacey A. Rosolowski, PhD
Can I interrupt you, because I'm at my witching hour unfortunately, and I hate to cut you off, and maybe we can decide to continue the conversation.
Charles Balch, MD
My recommendation Fred is, you have so much history beyond what I'm trying to do, that I've encouraged Tacey to have you come back and tell your story, because you are a legacy here.
Frederick Ames, MD
Well you're very kind.
Tacey A. Rosolowski, PhD
Well let me say for the record, just because I need to do this, that I want to thank you.
Frederick Ames, MD
Oh it's my pleasure.
Tacey A. Rosolowski, PhD
It's been really, really a cool conversation.
[0158:21]
Charles Balch, MD
Great stories.
Tacey A. Rosolowski, PhD
And I want to say, I'm turning off the recorder at ten minutes after one.
Recommended Citation
Ames, Frederick MD; Balch, Charles M. MD; and Rosolowski, Tacey A. PhD, "Chapter 06: From General Surgery to Surgical Oncology; on Edward Copeland, MD and Others; Reflections on the Division System" (2019). History of Surgery - Interview Chapters. 11.
https://openworks.mdanderson.org/surgeryhist_interviewchapters/11
Conditions Governing Access
Open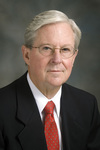 COinS