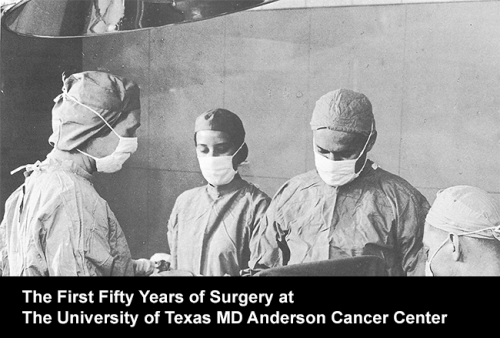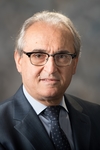 Title
Chapter 06: Key People in the New Division System; Final Comments on Teams
Description
Drs. Sawaya and Balch begin with a discussion of the key role that the division administrator, Donna Sollenberger played as Dr. Balch implemented the new Division organization. They then go on to talk about many others, including David Hohn, Jack Roth, Taylor Wharton, Christopher Logothetis, Gabriel Hortobagyi [oral history interview], and Eva Singletary. In the final minutes of the session, Dr. Sawaya comments on the value of multi-disciplinary work. Dr. Balch discusses Dr. Sawaya's visionary influence on the Department of Neurosurgery and then discusses the impact of Dr. Charles LeMaistre [oral history interview] on decentralizing leadership in the institution.
Identifier
SawayaR_01_20190312_C06
Publication Date
3-12-2019
Topics Covered
Portraits; Leadership; On Leadership; Institutional Politics; Understanding the Institution; Building/Transforming the Institution; Multi-disciplinary Approaches; Growth and/or Change
Disciplines
History of Science, Technology, and Medicine | Oncology | Oral History | Surgery
Transcript
Charles Balch, MD
Okay. I wanted to just bring in, this wasn't about me and the Division of Surgery. I think a lot of credit goes to David Hohn, who we recruited as the deputy head, who was then in charge of the operating rooms. David was very masterful in representing all the surgical needs for developing the high tech operating rooms. He became the vice president for the Hospital and Clinics, he went on to be president of Roswell Park Cancer Center. The other person who was brilliant was Donna Sollenberger, who I want to point out we hired from the department administrator from the University of Southern Illinois --who had a masters in English, as her only advanced degree, but who was the most gifted administrator and leader, who I could say, "This is where we want to be three to five years from now" and Donna would just naturally figure out the map of okay, so where do we start now, in order to get there three years from now, and who do we hire as staff, how do we train them, how do we get the resources.
Raymond Sawaya, MD
A truly, truly, truly special, special person.
Charles Balch, MD
A lot of this is doctors who didn't train as administrators. Donna was an essential partner for the things we've talked about in our success, of making sure administratively, that the trains worked on time, that the infrastructure was there when things were broken, to know how to fix it.
Raymond Sawaya, MD
Actually did it in a gentle way.
Charles Balch, MD
Oh, she was amazing.
Raymond Sawaya, MD
She's such a sweet person and caring person, you know. We have a tendency to view administration as these rough, tough people who want to block you on everything you want to do, but that wasn't at all the case with Donna.
Charles Balch, MD
I'll give you one example that impacted you. Around 1993 or '94, as we were building new buildings, we had different designation for the floors. We had a ground floor and a first floor in some buildings, there was no way-finding to get around, and Donna organized, in a weekend, that we redid the entire floors. Everybody got a new telephone number, a new office number, and then we had these colors on the floor as way-finding, for patients to find their way around this complex building. She pulled that off in a weekend. Everybody came to work on Monday, they had a new telephone number, a new number on their door, and what previously was the first floor now was the second floor.
Raymond Sawaya, MD
I remember that.
Charles Balch, MD
She had to change the elevators for the whole institution.
Tacey A. Rosolowski, PhD
That's amazing.
Charles Balch, MD
And it's part of her organizational genius, that she had the preparation and the practice.
Raymond Sawaya, MD
She can do that.
Charles Balch, MD
That was pulled off in a weekend without a hitch.
Tacey A. Rosolowski, PhD
That's amazing.
Raymond Sawaya, MD
Yes.
Charles Balch, MD
It's just one example.
Tacey A. Rosolowski, PhD
Just to let you folks know where we are, we have about 15 minutes left in our session. I was curious if there were any unsung heroes. We've talked about a lot of names, but is there anyone in the division that you think really made a contribution that we haven't talked about yet?
Raymond Sawaya, MD
Well, the two names besides Charles were David Hohn and Donna Sollenberger. David Hohn will always hold a special place in my heart because he was Charles's ambassador. He was the person tasked with the search for the first chairman of neurosurgery at MD Anderson. He really led the search, and so the phone call I received in Cincinnati from David, when I would come to visit. I mean I would go to his house in West U [West University Place], we would have a sandwich for lunch.
Charles Balch, MD
His wife Melinda.
Raymond Sawaya, MD
And then when I moved here, I would go with him to the Houston Choral Society.
Charles Balch, MD
He's an opera singer, he and his wife are both opera singers.
Raymond Sawaya, MD
They're phenomenal, and so I became a member of that society along with him. So we bonded really, because he was the first face of MD Anderson for me, and I was offered the job, I mean what more do you want. Beyond this, some key players.
Charles Balch, MD
Well let me ask you this, because there's just a few cliff notes about the other people you worked with as department chairs. Jack Roth (Division of Surgery interview].
Raymond Sawaya, MD
Yes. Jack was unique because he was a true physician-scientist. The other chairs were really not physician-scientists. They were good surgeons and perhaps good leaders but Jack was the first physician-scientist that the division hired at the chair level. I was second, after, right after him. Jack was clearly a critical figure, and to this day, he advises his department. Even though he stepped down many, many years ago, he remains a critical advisor to the Thoracic Department, in research.
Charles Balch, MD
The first big SPORE grant.
Raymond Sawaya, MD
They got the SPORE grant with Dallas, with Mena, at UT Southwestern.
Charles Balch, MD
John Mena.
Raymond Sawaya, MD
Yes, so Jack was a key player. Taylor Wharton, who was an old timer in the sense that he was here for a long, long time.
Charles Balch, MD
Felix Rutledge was the first chief of gynecology and then it became a department, and Taylor was really the first chair.
Raymond Sawaya, MD
Taylor. What impressed me about him is he had an incredible passion for education. I think this was his forte, and he invested a lot in his department for a top notch projection system and that kind of stuff. So each person I guess has their passion or their thing, and Taylor was heavily into education. I don't think he was much into research.
Charles Balch, MD
No he wasn't, but he in turn trained Dave Gershenson. So part of this I give credit. They didn't themselves have that in their DNA, but they did see and equip people who came behind them, who then succeeded them as chair. Helmut Goepfert was not wired that way but he trained Randy Weber—
Raymond Sawaya, MD
Yes, that's right.
Charles Balch, MD
—who became the chair, who brought that in the next generation. So Helmut would be interesting, because Helmut had, in his department, the only plastic and reconstructive surgery, and Steve Kroll, the only two neurosurgeons who were in the head and neck. So he had to allow things to be undone, he allowed it to happen. There was some fussing about it of course, but in fact he did allow it to happen and embraced the concepts of that.
Raymond Sawaya, MD
Yes, yes.
Charles Balch, MD
What is your impression of Helmut?
Raymond Sawaya, MD
Helmut—
Charles Balch, MD
A strong personality.
Raymond Sawaya, MD
A very strong personality. In fact, so strong that the first skull base neurosurgeon I wanted to hire, Chandra Sen from Pittsburgh, he comes here and of course for skull base, we're talking about head and neck, right? It's the interface between neuro and head and neck ENT. This zone in between that is a no man's land, if you will. So we can't hire a skull base neurosurgeon and not have that person work with the head and neck surgeons as a team, which today happens, seamless and it's perfect. Well, Chandra goes to interview with Helmut, and he basically turns him off. He has such a strong personality that it didn't work out, and so he didn't take the job. It turned out --I mean he's a great guy, he's a friend to this day. Chandra is a wonderful person but Franco DeMonte, whom I ended up hiring, didn't have any issue with Helmut. He came, Helmut, I guess, embraced him, and the rest is history. Helmut tends to be dogmatic, and you know these days, dogmatic approaches don't work.
Tacey A. Rosolowski, PhD
Well, what you were describing earlier with individuals that may not have been trained as researchers or may not have been trained, but were open and trained others, and were open to their interests to go on and work. That seemed to be very key. That's not dogmatism.
Charles Balch, MD
Urology. Andy [Andrew] von Eschenbach.
Raymond Sawaya, MD
Urology, of course Andy von Eschenbach was the chair, and he's a strong personality.
Charles Balch, MD
And we've talked about this historically. When I came, the other candidates were Andy von Eschenbach and Helmut Goepfert, both of whom thought they should have always had the job.
Raymond Sawaya, MD
I've always sensed that Andy was oppositional to Charles, and he's the one who told me he didn't think that neurosurgery should have been developed as a department.
Tacey A. Rosolowski, PhD
Yeah. I'm really curious to know why he felt that way.
Raymond Sawaya, MD
Honestly, I don't know the answer.
Charles Balch, MD
I think a lot of that is tradition. You know, this is the so called MD Anderson way that we talked about, and part of that was changing a deeply embedded culture which frankly, I did know about it. And I probably didn't respect it enough, but in fact it took an evolution of having people like Jack Roth coming, to bring credible laboratory research, of having Ray come, that developed the technology in the operating room, the prospective databases, the clinical trials.
Raymond Sawaya, MD
Exactly.
Tacey A. Rosolowski, PhD
Part of it is not knowing what's on the other side of the hill, you know? You live in your own backyard.
Raymond Sawaya, MD
Yes. I had a strong feeling that individuals who have been here for a while and who feel like they own the place, and then you tweak things and they don't have—
Charles Balch, MD
With this young kid from Alabama.
Raymond Sawaya, MD
Yeah, so you know, I think there was a threat. They sensed it as a threat, and that's unfortunate because these are very smart people. We're not talking about average people. Very smart people. Andy is politically, I think very savvy at some level. He teamed up with George Bush Sr. and made him—
Charles Balch, MD
Head of the NCI and then the FDA.
Raymond Sawaya, MD
Yes. Bush made him head of the National Cancer Institute and eventually—that's after he left MD Anderson-- and the commissioner of the Federal Drug Administration. I mean we're talking about really up there. Even before that, when he was chair here at MD Anderson, he had Bush Sr. on his research advisory board.
Charles Balch, MD
One of the things I remember about Andy that I think influenced me was his best friend was Chris Logothetis, and that his influence, his best friend was not a surgeon but a medical oncologist.
Raymond Sawaya, MD
Yes, that's a good point.
Charles Balch, MD
And that he talked all the time, about how every day, every hour, he worked with Chris Logothetis in medical oncology and the value of that partnership between medical and surgical, that eventually we all embraced.
Raymond Sawaya, MD
We all embraced. I certainly did that in neuro, absolutely, absolutely.
Charles Balch, MD
I tell the fellows now, "When you go look for a job, the people that will influence your career are not your partners in surgery down the hallway but your counterparts in medical and radiation oncology, in radiology, in pathology."
Tacey A. Rosolowski, PhD
I have to say, this is a topic that comes up in a lot of the conversations I have for the oral history project. People talking about these friendships or connections outside their own specialty, that opens their mind in new ways.
Charles Balch, MD
The other partnership that really influenced me when I was vice president was between Gabe [Gabriel] Hortobagyi [oral history interview] and Eva Singletary. Of course they came first and said we want to work together in a dedicated breast center, and I think Andy was very clear early on, this is a really good idea. And once you have some champions in major disease areas, it's easier and easier to get people to say I like my surgery clinic, my surgery nurse, I'm not sure I want to make all these changes, but in fact in a relatively short time, we changed the entire institution and eliminated surgery clinics and radiation clinics, and everybody moved into the disease site clinics where the whole concept of horizontal integration, not just at the doctor level but at the staff level, the research nurses, the social workers, the physical therapist, the nurses, were dedicated to one—and the midlevel providers. I put out … I hired the first physician assistant in MD Anderson, Carol Lacey, because the Division of Nursing did not want somebody who wasn't a nurse clinician. Now there are 300 physician assistants at MD Anderson, the largest employer in the country, and you were able to hire PAs and nurse clinicians.
Raymond Sawaya, MD
Nurse practitioners, yeah.
Charles Balch, MD
But the concept of physician assistants was new here, and there was some resistance primarily among nursing, to have somebody who reported directly to a doctor and not to the Division of Nursing.
Raymond Sawaya, MD
Yes, yes.
Charles Balch, MD
And those are key to the delivery system.
Raymond Sawaya, MD
You know, the bottom line is you don't sit on your laurels. You always innovate, think how can I make it better and what's the next thing. And if you are going to resist it, well, at least resist it with an open mind okay, and be critical about analysis of strategic plans you talked about earlier. I think we did that in surgery in a very successful way. I come back to my previous point that the reason these multidisciplinary connections work is not only because it's the best for the patients, but it's also because of the respect we have for each others' specialties. I'm not going to go the point to say there are no egos. There are always egos. But somehow, the ego of the individual at MD Anderson is toned down. We respect what the radiation doctors can do or the medical oncologists can do, and they respect what the surgeons can do for the common good of the patient. So each area remains its own entity, its own strength, its own driver, but we are able to come all together and work together.
Charles Balch, MD
I think … One other thing that I think was an element of success, Ray Sawaya and I really think in many of the same ways. Ray is a visionary person. He's a strategist, I am too, and I think we related to each other. But to succeed, you have to have people around you that can take your vision. Our job is to set the vision, write the strategic plan, but we're not as gifted in saying okay, this is the day-to-day of how you do this, this is who you hire, this is how you have to change your software. So an element of the success is the concept of a team at every level; the department level, the division level and so forth. That again was Mickey LeMaistre's strategy that he wanted to decentralize. This was not a top-down organization, which I think is fundamental to the success in those early days of making changes. Because if you're going to make changes, the whole institution has to move as one. And if somebody at a dictatorial level says this is the way it will be, you will have people very artfully finding ways to not have that happen. So I think one of the things that both Ray and Jack Roth, who came, they took the risk of saying this is something new. I'm going to take the risk of creating a new department, changing the culture of the institution, extracting some people from other areas and then making that succeed, but also I think integrating as a full partner in the organization and not an isolated sphere.
Raymond Sawaya, MD
Absolutely.
Charles Balch, MD
I think that's part of our success, is that integration, not only vertically but importantly, horizontally, the concept of teams in the delivery of care, the concept of teams in our research, that is embraced in the culture. You haven't had this, but I've been at two other university cancer centers and I can tell you the silos and the barriers are there that are much harder to break down than they are here at MD Anderson.
Raymond Sawaya, MD
I have no hesitation whatsoever throughout my stay here. As I said, I was extremely lucky to have been offered the job and to have things materialized and things materialize because of vision of people like Mickey LeMaistre, Charlie Balch.
Charles Balch, MD
In taking risks, that if we set the vision we're going to make the changes, we'll find a way to succeed.
Raymond Sawaya, MD
Exactly. So you know, there were rough spots but overall, I mean this could not have succeeded better than it has, so thank you for recording all of this.
Tacey A. Rosolowski, PhD
Absolutely.
Raymond Sawaya, MD
So what's the final product?
Charles Balch, MD
Let me just say one other thing. We made tremendous changes. The reason we made those changes … Because as soon as we announced the changes, there were some people who went directly to Mickey LeMaistre and said, "This is not good, this is not our tradition." Mickey LeMaistre is the one that throughout this supported the changes, and created the culture that I wouldn't have succeeded as division head, you wouldn't have succeeded, and I give him great credit. This institution transformed from a very good but clinical cancer center, into a full fledged, world class academic center. He recruited Irv Krakoff and gave him that charge, who had to fight J Freireich [oral history interview] and everybody else, and then he wanted a counterpart in surgery and brought me in to do that. But the reason we're describing this success starts at the top. He had the vision, he took the risk, he took the political hits for making the changes and supporting the changes within the institution,n and we could not have done this, all of us, without the visionary leadership and the style of leadership of Charles LeMaistre.
Raymond Sawaya, MD
So Tacey, what's the final product will look like, is this a book?
Tacey A. Rosolowski, PhD
Well, it's Dr. Balch is working on a book. Why don't we close off and then we can talk about those practicalities. I wanted to thank you formally, for your time this morning and your candor, it's been really interesting, and thank you too, Dr. Balch, for spearheading all of this.
Charles Balch, MD
The interaction between us is really good.
Tacey A. Rosolowski, PhD
It is. Yeah, well it's always fun. I will say for the record, I'm turning off the recorder at about one minute after eleven.
[End of Interview]
Recommended Citation
Sawaya, Raymond MD; Balch, Charles MD; and Rosolowski, Tacey A. PhD, "Chapter 06: Key People in the New Division System; Final Comments on Teams" (2019). History of Surgery - Interview Chapters. 43.
https://openworks.mdanderson.org/surgeryhist_interviewchapters/43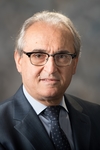 COinS