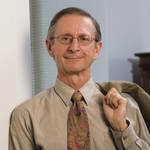 Title
Chapter 14: A Mark Left on Education and Faculty Achievement
Description
This interview takes place a few weeks before Dr. Tomasovic's retirement. Dr. Tomasovic closes the session with comments on his hopes that MD Anderson preserves its educational mission, which distinguishes it from other care-delivery institutions. He also hopes that his efforts to foster leadership among the faculty will endure.
Identifier
TomasovicSP_02_20110801_C14
Publication Date
8-1-2011
Publisher
The Making Cancer History® Voices Oral History Collection, The University of Texas MD Anderson Cancer Center
Topics Covered
The Interview Subject's Story - View on Career and Accomplishments; Career and Accomplishments; Professional Values, Ethics, Purpose; Character, Values, Beliefs, Talents
Creative Commons License


This work is licensed under a Creative Commons Attribution-Noncommercial-No Derivative Works 3.0 License.
Disciplines
History of Science, Technology, and Medicine | Oncology | Oral History
Transcript
Tacey A. Rosolowski, Ph.D:
Let me just be aware of the time right now. I know you have to leave in about ten minutes. And I didn't want us to close out the day today without me asking you a few final questions. Because you're looking ahead to retiring at the end of this month. And you mentioned earlier an award that you received and that you helped design. And I wondered if you would comment a little bit on some of the awards that you've received over the years that meant the most to you. And maybe as either an additional question or an alternative question what you feel as you look back are the most important things you've contributed and what you hope would be carried on in the institution.
Stephen Tomasovic, PhD:
I think we've touched on some of the latter. Let me just talk about the awards for a minute. Yes, I think one of the awards that -- and I'm not a highly awarded person. But I think education has been one of my strong points in the institution. And I did receive that recognition, a faculty achievement award in education, which is given each year to one of the best educators in the institution. As you said, I helped -- or as I said earlier, I helped to create those faculty achievement awards. And the development office worked for years. They're now all fully endowed and named after various donors. And it's a significant award. It's 30,000 some dollars, you can take a large portion of which as personal funds, or you can use it for research. You get a nice pressed stamped heavy medallion. And so I think I appreciated and welcomed receiving that award. I don't remember. I think that's under my awards when I -
Tacey A. Rosolowski, Ph.D:
Is that the dean's teaching excellence?
Stephen Tomasovic, PhD:
Well, that's a smaller --
Tacey A. Rosolowski, Ph.D:
That is the John P. McGovern Outstanding Teacher?
Stephen Tomasovic, PhD:
Let me find. Where is that list at anyway?
Tacey A. Rosolowski, Ph.D:
Outstanding faculty award. Faculty achievement award.
Stephen Tomasovic, PhD:
The first one was that McGovern Outstanding Teacher in 1998. You're picked by the students. And that was probably a direct outcome of having created the cancer biology program and the cancer biology course. If you're selected by the students, it helps to have a lot of students that you're interacting with. You teach a course with five people, and that's all that ever meet you, you're very unlikely to get nominated successfully for that award. So I had 30 some students and was doing a job that they appreciated. So that was my first education award that I got here. The dean's teaching excellence award is just a more routine thing that you just did a good job with citizenship in the graduate school. But the McGovern teaching award, outstanding teacher, was as a result of selection by the students in the graduate school. So that was something that I appreciated. The other one was in 1994, that faculty achievement award in education given by the faculty senate. I think that was another significant thing for me, because it was my peers looking at me in comparison to other faculty that year and deciding that I had made a body of contributions to that point in my career that merited that award. Then I think the next really significant one was a few years ago. We created -- I think it was in 2004 -- the executive vice chancellor Dr. Shine created an academy in the University of Texas system for the health science education. And that was to be like most academies an honorific group of individuals that would elect its own membership and have a grant process to further education in the institution, manage a grant process to further education within the University of Texas related to health science, conduct educational conferences and some other tasks. And so the election to the academy is by nomination by the president or the faculty senate or one of the deans to the academy, and then there's a vote of the academy members. So to be elected to the academy it's an honor within the University of Texas health-related institutions. Again you receive a nice medallion. You're given that by the regents. You wear that medallion at commencement ceremonies when you're robed. Graduations, things like that. And also when you're elected to that academy, the president can nominate you to be another title in the University of Texas system that is used not just for the health-related institutions but across all of the University of Texas system. It's called a distinguished teaching professor. And so Dr. Mendelsohn nominated me to be a distinguished teaching professor within the University of Texas system, and I received that award in 2007. And with my pending retirement they submitted me to receive emeritus professor status. And that was approved this past month. So I'll be an emeritus professor and an emeritus member of the academy. And I think all of those things were primarily related to my education contributions in the institution. I'm very gratified by all of those awards. And there was a second topic that you wanted me to comment on.
Tacey A. Rosolowski, Ph.D:
No, actually I wanted to close out with a different question, which is --
Stephen Tomasovic, PhD:
What were my -- what I consider the main achievements?
Tacey A. Rosolowski, Ph.D:
Or the alternative one I was thinking of was what is something you've initiated that you hope will be carried on after your retirement.
Stephen Tomasovic, PhD:
I think I talked about some of those, but let me pick them out from amongst all of the talk. One is the faculty development programs and there's various forms. The mentorship, the leadership programs. As a corollary to that I hope that the efforts that we've made to try to foster improved leadership among our department chairs, division heads, our executives, pushing to have job descriptions that are about leadership, pushing to make the search process look for those leadership skills. Once we select those individuals have an understanding and a commitment that they'll continue to develop those skill sets. Having a portion of their salary that's at risk that they lose if they aren't able to continue that position. Those are a couple of things that I think I would like to see continue. I'd also like to see the education council continue. To have that cross-organizational body within the institution that thinks about education in the broad sense and plans for the educational needs and resources of the institution and fosters awareness of the education mission and tries to keep that at a high level of value and importance in the institution. Because fundamentally we are an educational institution. We are a learning organization. If we didn't conduct educational programs, if we didn't try to learn about science and medicine and advance the standard of care, we would be like any other hospital in the United States whose primary role is just to deliver the current quality of care. We're doing more than that. We're trying to advance the standard of care and take that and deliver that out to other organizations that are delivering that care. And so we are fundamentally -- if we weren't about education and learning, we wouldn't be -- achieved what we have achieved as an organization. And we want to make sure that doesn't get -- everybody knows that under the surface, but we want to have that up there and visible, and continue to receive appropriate resources and attention by the institution. So I'd like to see that continue.
Tacey A. Rosolowski, Ph.D:
Thank you very much for your time today. I really appreciate it.
Stephen Tomasovic, PhD:
You're welcome. I enjoyed doing it.
Tacey A. Rosolowski, Ph.D:
Thank you. It's about ten minutes of 4:00. And the second session is ended now. Thank you. END OF AUDIO FILE
Recommended Citation
Tomasovic, Stephen PhD and Rosolowski, Tacey A. PhD, "Chapter 14: A Mark Left on Education and Faculty Achievement" (2011). Interview Chapters. 16.
https://openworks.mdanderson.org/mchv_interviewchapters/16
Conditions Governing Access
Open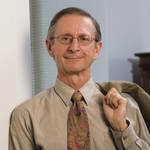 COinS