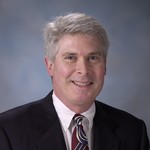 Title
Chapter 05: Specializing in Diagnostic Imaging [Part 2]
Description
In this chapter, Dr. Hicks talks more about his experiences in his clinical residency in radiology at the Indiana University Medical Center (1983-1986) where he went on to serve as an instructor in vascular radiology (1986-1987). He talks about what it is like to practice medicine in an evolving field/specialty.||The recording cuts off mid-sentence at 36:30.||
Identifier
HicksM_01_20180417_C05
Publication Date
4-17-2018
Publisher
The Making Cancer History® Voices Oral History Collection, The University of Texas MD Anderson Cancer Center
Interview Session
Topics Covered
The Interview Subject's Story - Professional Path; Professional Path; Formative Experiences; Professional Practice; The Professional at Work; Technology and R&D; Professional Values, Ethics, Purpose
Creative Commons License


This work is licensed under a Creative Commons Attribution-Noncommercial-No Derivative Works 3.0 License.
Disciplines
History of Science, Technology, and Medicine | Oncology | Oral History
Transcript
Tacey A. Rosolowski, PhD:
Well, we kind of took you away from your story about Indiana. Do you want to go back there and talk about the evolution there?
Marshall Hicks, MD:
Sure. Showed up, like I said day one, was doing interventional radiology, fell in love with it, had two great mentors; Bob Holden, who later became the dean of Indiana University School of Medicine, just a wonderful man, and Gary Becker, who later on became the executive director of the American Board of Radiology. So they both had distinguished careers but befriended me as well as mentored me.
Tacey A. Rosolowski, PhD:
What do you consider to be a good mentor?
Marshall Hicks, MD:
Well, they were a good example, I think is a big part of it for when you're working with them and you're seeing them in action, you see how they interact with people, you see how they lead their lives not only personally but professionally.
Tacey A. Rosolowski, PhD:
What were the things that you respected about them and what did you notice them doing?
Marshall Hicks, MD:
It was how they related to people, to colleagues, how they treated the staff, how they treated other individuals there. Their inquisitiveness, how they always wanted to get better, always were looking for ways to improve, not only their own personal performance but also the field, how to move the field forward, and then also just academic. I had no idea how to write a paper or how to do a study or do anything like that, just being able to be patient with me and spend the time and show you how to be a mentor is really …You know they were the first ones I was able to interact with where they could do that. My surgeon mentor was one that was more of a mentor from a distance. You just watched him and he kind of exemplified the academic surgeon or physician. These were two that I got to know pretty well and became friends with as well as mentee.
Tacey A. Rosolowski, PhD:
I'm getting the sense that you and your colleagues, your mentors, really were very aware that you were in an evolving field. What were the kinds of decisions you saw people making about that you know, I mean that's a weird place to be in, it's like open territory.
Marshall Hicks, MD:
Yeah it really was because the technology was almost changing by the month certainly. I mean you'd have new guide wires, new catheters, new technology that was coming into the field, that was improving it, you know on a monthly basis, really, I mean it really was. You learned, as it evolved you learned how to make do with what you had, which sometimes were pretty crude, and we'd steam catheters over a steam pot to shape them, and that's what we put in the blood vessels and then run them up through, and take them to different areas of the body, but you would have to shape them because they weren't pre-shaped, the material wouldn't stay in a shape. So all these different things, and the guide wires that we used to actually thread up and then put the catheter over them, could sometimes be— [The interview ends abruptly, equipment malfunction]
Recommended Citation
Hicks, Marshall MD and Rosolowski, Tacey A. PhD, "Chapter 05: Specializing in Diagnostic Imaging [Part 2]" (2018). Interview Chapters. 193.
https://openworks.mdanderson.org/mchv_interviewchapters/193
Conditions Governing Access
Open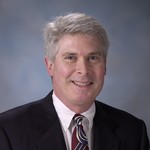 COinS